BUY MY BOOKS!
B  O  O  K  S
I have published a half-dozen books through the Blurb website.
All are for sale in hard or soft cover.

JUST CLICK ON THE BOOK COVER THAT INTERESTS YOU AND YOU'LL BE TAKEN TO THE APPROPRIATE PAGE ON BLURB.
YOU CAN EVEN PREVIEW THE BOOK TO SEE IF YOU LIKE THE PICTURES & DESIGN. IS THAT SWEET OR WHAT?  🙂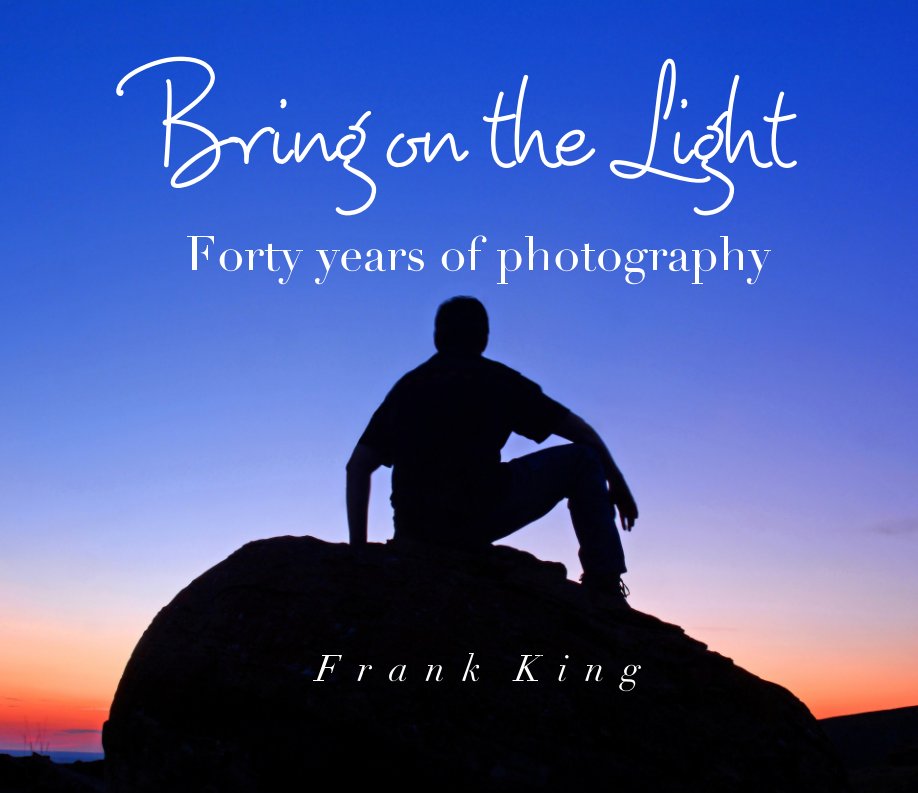 Bring on the Light: Forty years of photography
My most wide-ranging collection, featuring colour and black-and-white nature, landscape and urban architecture pictures from Canada, Ireland, France, Scotland and the Channel Islands. A feast for the eyes!
Light and Lines: An Urban Landscape Portfolio
The stunning architecture in six of Canada's best known cities — Vancouver, Edmonton, Calgary, Niagara Falls, Ottawa and Toronto — are highlighted in this book, the first on this subject matter since I started photographing urban landscapes in 2012.
Frank King's Southern Alberta
From Red Deer to the U.S. border, this portfolio concentrates on jaw-dropping peaks, mysterious badlands, awesome wildlife, quietly glorious prairies and funky architecture. Published in 2014.
The Alberta Badlands: A Landscape Portrait
This portfolio concentrates on winter and summer in the amazing Dinosaur Provincial Park (one of the world's most important sources of dinosaur fossils) southeast of Calgary, Alberta.
Blue Symphony: Winter in the Canadian Rockies
Spectacular photographs from Banff, Jasper and Waterton Lakes national parks in Alberta, plus Alberta's Kananaskis Country and British Columbia's Kootnay and Yoho national parks.
Ireland: Visions of Light
Landscape photographs from all over the island, made during trips in 1987 and 1993. You'll see everything from the stunning Ring of Kerry on the west coast to the gritty Republican areas of Ulster.
Moments of Light: 30 Years of Photography
Published in late 2011, Moments of Light provides an overview of my work from 1980 to 2010 and includes carefully selected pictures from Quebec, Ontario, Alberta and British Columbia.
Special Places: A Landscape Photographer's Vision of Southern Ontario
Portfolios of landscape pictures from four memorable locales – Bon Echo Provincial Park, the Thousand Islands, Sauble Beach and Bruce Penninsula.
Frank King's Southern Ontario
This portfolio explores the southern half of Canada's most populous province using photographs from the 1980s all the way up to the summer of 2012. Waterfalls, skyscrapers, tranquil farmland and wildlife are captured in all seasons and conditions.
The GENDER DIVIDE runs through my DISHWASHER!  (And other stories of life, faith and mystery)
My first non-photographic book, a collection of my favourite writings from 26 years in newspapers. Topics range from gay marriage and the agony of flossing to examining the Christian faith and being a cellphone virgin
'Til the SOUL felt its WORTH: Glimpses of Faith, Love and Eternity
My second non-photographic book, collecting essays I wrote for a website on spirituality. Topics touch on: What is the meaning of life? How do you deal with life's big questions and challenges? What is faith? Does God exist? If he does, who is he and what is my relationship with him?